Lead like a Mother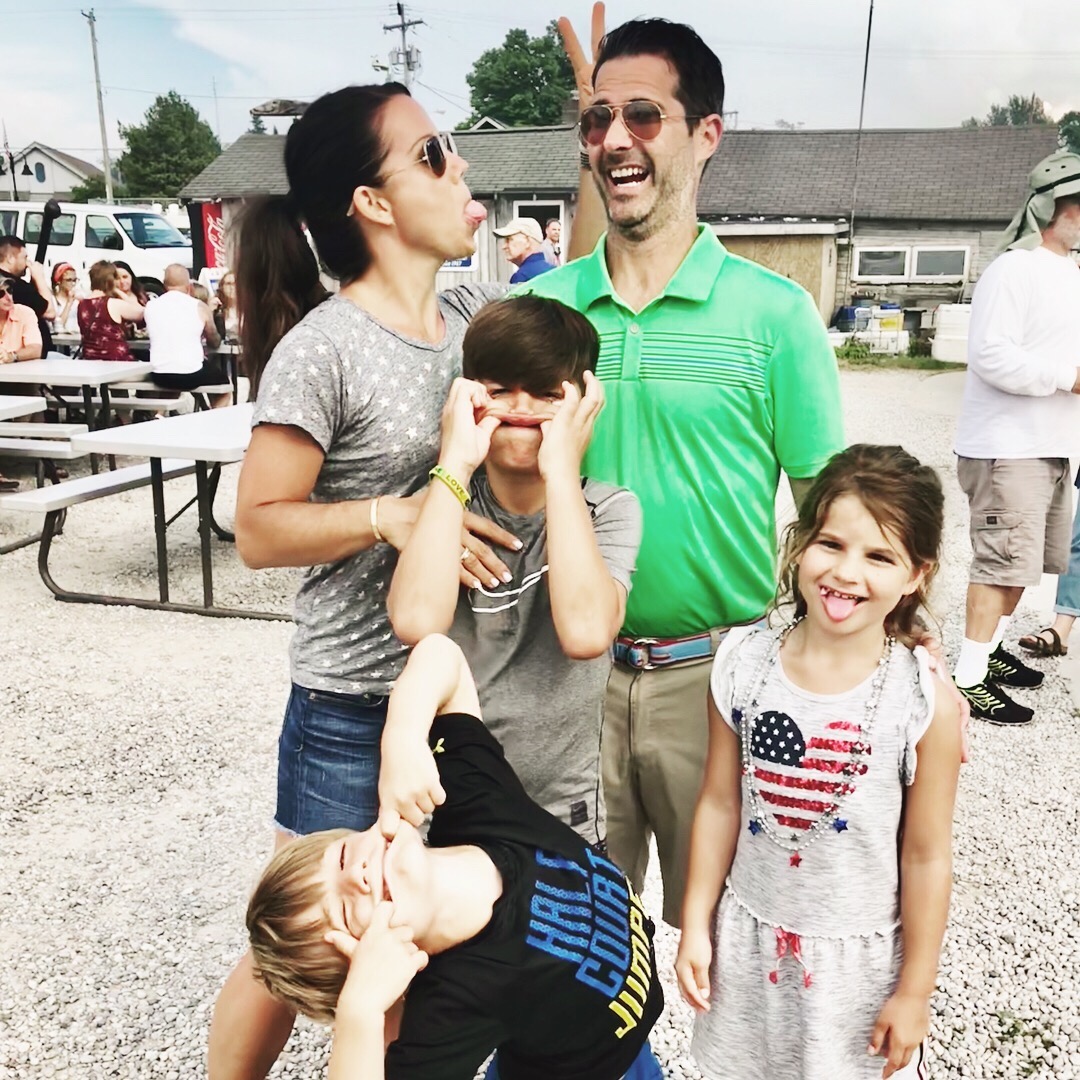 This is my favorite family photo because it is an overt reminder of three important things. 1) Life is crazy. 2) Embrace the crazy. 3) You can't control everything, but you can control how you deal with it. I wanted a nice family photo on our vacation. The kids didn't, so we went with it!
The only thing I remember about Sydney's first birthday is kissing her goodbye, telling her happy birthday, getting in my car crying, and driving myself to the airport. It was a Wednesday (3/30/2011) and I was scheduled to go on a jet trip with my team. We'd scheduled Sydney's birthday celebration for that weekend, so we could shower her with love, but having to travel on her actual day almost killed me.
And there it is, the mommy shuffle. I was introduced to this game as I returned from my first maternity leave with Dylan. For most games you can prepare for and be ready with strategies to win. Not this one. It's too emotional. The hardest part of my career … maybe even my life, was trying to figure out how to go back to work after having our oldest, Dylan.
Ten years later, I can't say that I've figured it all out, but I am definitely more equipped today than I was as I naively tried to pick up where I left off in my career after my first maternity leave. The overarching learning I've had through all of this is simply:
We are all more capable of far more what we think we are.
For me, having kids didn't mean that I wanted to compromise my career goals. I wanted to be a super mom and a super career woman. But, I quickly realized that I had to make some changes for that to happen. Being a mom has forced me to really prioritize and focus on what's important, and everything else gets dropped. That means setting priorities, making tradeoffs and being ok with it. When I ACTUALLY DID THAT, I started to become better at my job because eliminating the distractions and all the crap that was filling my head allowed me to be more effective on the important stuff. I was promoted several times between my first and third kid and I was promoted to an officer position at Target when my youngest was 3 – frankly, a career goal I never thought I'd achieve.
From my experience, a lot of small things led to big possibilities. Here are five things that you can do TODAY that helped me as I started having kids:
Just take the right next step.
I did not set out to become an officer at Target. I never thought I'd make it that far. But every day I focused on what was in front of me, and how I could tackle it the best possible way.
Prioritize.
Get rid of all of the ancillary crap that won't help you realize your career goals or spend time with your family. ALL. OF. IT. Make trade offs, the small things (it's ok if your house is a lil' messy) and the big things (what projects can you put on the back burner?).
Set boundaries.
I never did happy hours in an organization that was HH crazy. I was happy to do lunch, coffee, breakfast, go for a run, whatever, but after work was off limits.
Leverage your partner.
Marriage is a two way street. Empower your partner. Our roles are equal opportunity. He can do gymnastics hair and I can tape a hockey stick. It just has to be that way for us in order to work.
Believe that you can.
You don't have to have it all figured out, but if you believe you can reach your highest goals, you'll figure it out. If you believe you can't, you're right.
When these things happen, you'll see that you are more capable of far more than you think you are.
Sheryl Sandberg cited a statistic in Lean In: 43% of highly qualified women with children are leaving careers or off-ramping for a period of time. If that is the right path for you, you go sister. We support you! But don't make that choice because you don't think you can manage both having a career and raising kids. Make the choice because it feels like the right thing to do in your heart.
For more "Lead like a Mother" inspo. Check out my friend, Lynne Robertson's blog: http://leadlikeamother.com