Universal truths from a refugee camp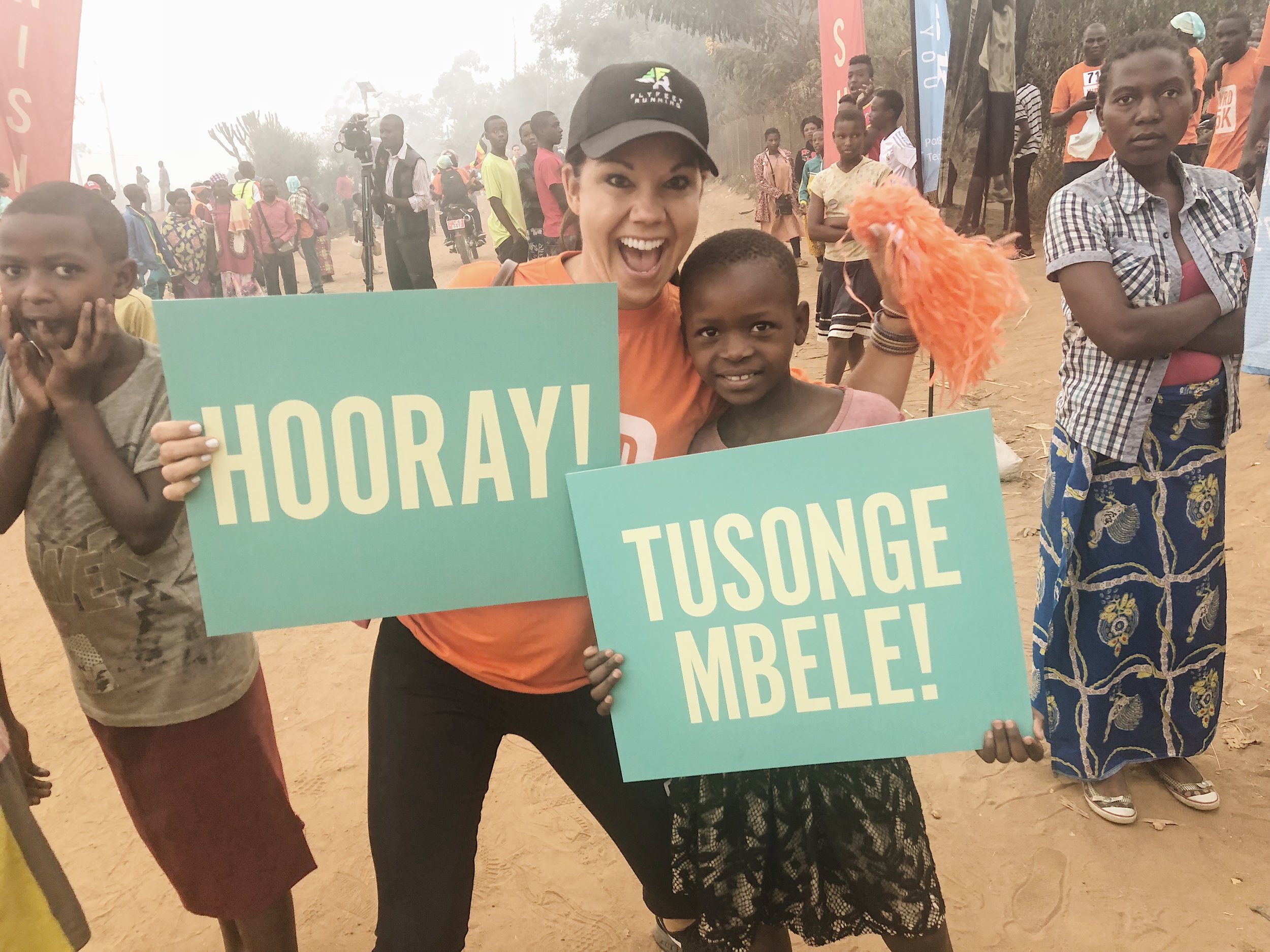 "I've had a difficult life. Living in a refugee camp is hard. Running helps me forget about my past and think about the possibilities for my future. It gives me hope." This from Neree, a 20 year old Burundi woman who has been living in the Nakivale Refugee Camp in Uganda for 3 years. Read the article in the link if you want just a taste of what these refugees have had to endure. It's not even what horror movies are made of.
Yet, these people who have endured atrocities that we can't even fathom, are filled with hope. Because they have to be. They are focused on finding their purpose and living an abundant life. A resilience I've never seen. A reminder that the human spirit is strong and that no matter where we've come from, at our core we are all the same.
When the American Refugee Committee (ARC) asked if Fly Feet would be interested in traveling with them to Uganda to help build women's and girl's running groups, I jumped at the opportunity. I knew running is a powerful tool that can help build confidence, community and improve health, but to be totally honest, I wasn't exactly sure how that would translate to the refugees in the camp.
I learned so much in three days in the refugee camp with the ARC. I left Uganda filled with joy and hope and promise. The lessons that ARC and the refugees have taught me are universal truths that transcend situational circumstances of our lives.
The promise of a better future is stronger than fear.
It would be easy for them to live in fear. They come to these camps leaving everything behind because they fear for their lives. They literally ran for their lives. Everything they had came unraveled. Many have lost family members before their eyes along the way. They take refuge in these camps with no sense of community, or what their future holds. It would be easy to spiral into despair. But hope is very powerful. Hope for a better future fuels their ability to not just go on, but to search for a meaningful life. That was an incredibly powerful lesson I learned from Neree and will continue to fuel my desire and commitment to not just care, but act.
Finding purpose is what life is all about.
ARC stands behind the notion that simple human justice is the chance to build a life, not just cover the basics. A life that is filled with purpose and joy. Even if you don't have the basics covered, hope and purpose can fill the gaps. We met women who literally didn't have enough food to fuel their bodies, but they still wanted to run because running helped them build a sense of community, and helped them forget about how difficult their lives are.
In the face of the impossible do the doable.
As I sat down to listen to these women talk about their desire to start a running club, they told us that they wanted include the men and boys in this club. I was so confused. Why? Why not just a place for women and girls to gather and support each other? Because that's not safe. Because they'll be a target for gender based violence. They worried they'd get raped. What? This initiative became so much bigger. So much more critical. This isn't just a running club. This is a way for them to find purpose and hope and meaning in their lives. To build allies and stay safe. We came with an outline of what we thought could work, and quickly learned that we had a lot of work to do to design something completely different. We were overwhelmed. Annie, our ARC partner, continued on asking questions and we listened intently.
After the session was finished, we cried and hugged and took photos and shared our What's App digits. They thanked us profusely for coming, for listening, and for caring. I learned that again, I didn't have to have all of the answers, and even though this running club now felt like life or death to me, that doing the doable was actually enough for right now. And if we can just keep doing the doable, we'll get there. And it will be wonderful.
No one can do everything but everyone can do something.
If we can all just do one good thing, over time those things will add up to a great thing. Before I went to Nakivale, I often found myself moved by emotion around certain political issues, or with the strong desire to do something to help people in need, but I was paralyzed by the enormity of situation. Did my efforts matter? Was it really going to help? ARC helped me realize that every effort matters. Every gesture, every smile, every emotion shared matters. Our voices matter. Because they are the catalyst for change. And together, all of our efforts, our voices, will make a difference. I realized on this trip, that I don't have to solve the refugee crisis, or fix the political issues in our country, but I have an obligation to use my voice to be the change I want to see. It will be hard for me to do this, to put myself out there, but I'm committed.
ARC believes that we live in an abundant world filled with people who want to help and they view themselves as a channel for those people. If you haven't checked out their website, I encourage you to do so. Fly Feet will continue to support their efforts because as a business, I believe we also have an obligation to use our platform to raise awareness and serve others.
Some quick stats:
Uganda has a population of 40M people and 1.2M refugees
There are 64M refugees in the world.
1% of refugees will have the opportunity to move out of their refugee camp.
Nakivale, the refugee camp in Uganda, was established in 1958.
Nakivale is quite progressive as compared to other camps allowing inhabitants to come and go as they please and access to education.
There are 100K refugees in 27 miles with 13 different nationalities represented at Nakivale.